Jedenáct evropských knihoven spouští ve dnech 15.–28. května 2017 jarní kampaň a nabízí digitalizaci volných děl za speciální věrnostní cenu. Můžete vybírat z téměř 1,4 milionu knih.
Jak na to:
Pokud si během těchto dvou týdnů objednáte službu EOD od níže uvedených knihoven, na další objednávku z té samé knihovny obdržíte slevu 50 %. Pro uplatnění slevy stačí zadat "spring2017" do poznámky v objednávce.
Knihy si můžete vyhledat v katalogu EOD na této stránce, případně v katalozích jednotlivých zúčastněných knihoven. V záznamu dokumentu opět najdete tlačítko "Objednat digitální kopii", případně "Digital on request".
Kampaně se účastní následující knihovny:
Tyrolská regionální a univerzitní knihovna, Univerzitní knihovna ve Vídni (Rakousko), Univerzitní knihovna v Řezně (Německo), Univerzitná knižnica v Bratislave (Slovensko), Národní technická knihovna, Moravská zemská knihovna, Vědecká knihovna v Olomouci a Knihovna AV ČR (Česká republika), Švýcarská národní knihovna, Estonská národní knihovna a Dánská královská knihovna.
Upozornění:
Zúčastněné knihovny si vyhrazují možnost učinit v konkrétních případech výjimku, tudíž si před potvrzením objednávky prostudujte "Obchodní podmínky služby". Hlavním organizátorem kampaně je Tyrolská regionální a univerzitní knihovna (Univerzita v Innsbrucku).
EOD homepage
EOD search engine
EOD Twitter
EOD Facebook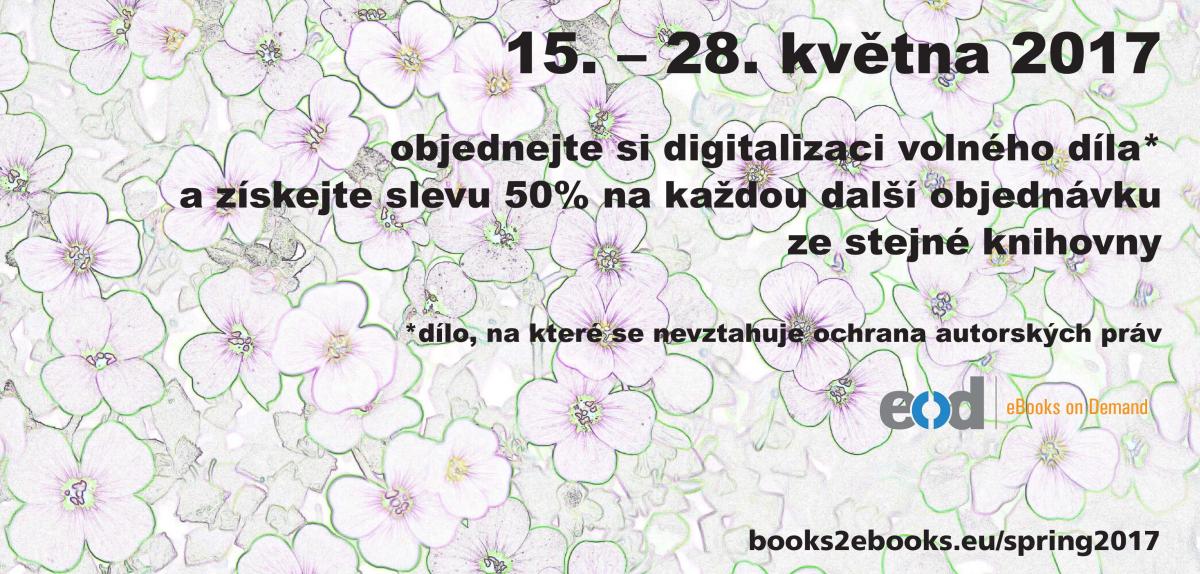 eBooks on Demand (EOD) Network presents a two week digitisation offer
From 15-28 May, 2017 11 EOD Network libraries from 7 European countries run a spring campaign to offer digitisation of public domain books for a special price to returning customers. The collections on offer sum up to 1.4 million books.
During these two weeks anyone ordering an EOD eBook from a library listed below, gets 50% discount for the next orders from the same library. Just enter the promotional code "spring2017" in the remarks field of the order.
The books on offer can be browsed on this page of the EOD search engine or from the catalogues of the libraries participating in this campaign. Digitisation orders can be placed right from the book record by clicking "Digital on request" button. The final price will be sent for confirmation.
The following libraries take part in this campaign:
University and Regional Library of Tyrol, University Library of Vienna (Austria), University library of Regensburg (Germany), University library Bratislava (Slovakia), National Library of Technology, Moravian Library, Research Library in Olomouc, and Library of the Academy of Sciences (Czech Republic), Swiss National Library, National Library of Estonia, and Royal Library of Denmark.
The participating libraries reserve the right for exceptions in special cases. See the Terms & Conditions after clicking the "Digital on request" button in the record of the desired book. The campaign is organized by the University and Regional Library of Tyrol (University of Innsbruck).
EOD homepage
EOD search engine
EOD Twitter
EOD Facebook
Additional information:
Veronika Gründhammer, Department of Digital Services, University of Innsbruck, Library, Austria, tel. ++43-(0)512-507-8455, e-mail: veronika.gruendhammer@uibk.ac.at